Clear Braces for Adults and Teenagers in Murray, UT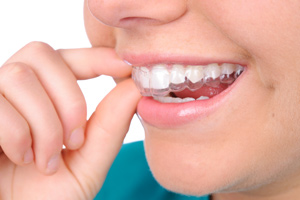 When people think of "braces" they generally think of clunky, obtrusive metal brackets and wires. The long-term results can be positive, but in the meantime, you're forced to sacrifice your smile.
With Invisalign invisible braces in Salt Lake City, you no longer need to make that sacrifice. The innovative technology behind the Invisalign system allows you to keep your natural-looking smile while you straighten teeth with clear braces.
Benefits of Invisalign Clear Braces
Appearance – Invisalign is the closest thing to invisible braces you can get.
Safety and Comfort – Not only do Invisalign clear braces cause less damage and pain to your gums in the way that metal braces do, they can be removed for brief periods of time if necessary.
Length of Treatment – It will only take one year on average for you to achieve straight teeth.
How Do Invisible Braces Work?
On your first visit to our cosmetic dental practice in Murray, near Sandy, Utah, an impression of your teeth will be made. Using the impressions, a digital three-dimensional model of your teeth will be created at the Invisalign laboratory.  Invisalign will then create a completely custom series of clear plastic trays. The trays are almost totally unnoticeable and cause no irritation. They place gentle and constant pressure on your teeth until they have moved enough to fit the next tray in the series. Each tray is generally worn for about two weeks. Invisalign clear braces work gradually, and inconspicuously until you finish up with your last tray and walk away with that beautiful, and straight smile.
Is Invisalign Right for Me?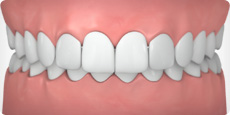 If you want to straighten teeth effortlessly and without the pain, irritation, and embarrassment of braces, then Invisalign might be right for you. Invisalign isn't just for mild cases either; it can help correct overbite, underbite, crossbite, spaces, and crowding in both adults and teenagers. Having straight teeth means that you don't need to feel like hiding your smile.
Get Invisalign Invisible Braces for Straight Teeth in Murray UT
Dr. Clint Blackwood, DDS, will help evaluate if you're a good candidate for Invisalign or our other adult orthodontics, Six Month Smiles. We'd love to hear from you! If you would like to straighten teeth while keeping your natural-looking smile, please feel free to call our cosmetic and general dentistry office in Murray, UT, and speak with our friendly staff, or submit a message using the contact form on the right if you are in the Salt Lake City area, including Sandy, Utah.
For more in depth information about Invisalign, please visit our Invisalign website!