Clear Braces for Adults and Teenagers in Murray, UT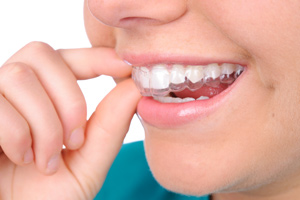 When people think of "braces" they generally think of clunky, obtrusive metal brackets and wires. The long-term results can be positive, but in the meantime, you're forced to sacrifice your smile.
With Invisalign invisible braces in Salt Lake City, you no longer need to make that sacrifice. The innovative technology behind the Invisalign system allows you to keep your natural-looking smile while you straighten teeth with clear braces.
What are Invisalign Clear Braces?
Metal braces were the only option for many years. Now, though, a clear braces system from Invisalign® can straighten your teeth without using any metal. The system uses a series of dental aligner trays to make small, consistent adjustments that straighten teeth. You can wear these trays most of the time, only removing them during meals or when cleaning your teeth. The aligner trays are made of a material that is practically invisible. Since they're customized to fit closely over your teeth, many people won't even be able to see you're wearing them—unless you tell them!
We can swap out your trays every two weeks. However, we can instead give you a few sets of trays at once, which you can swap out yourself, saving you a trip to our office.
Benefits of Invisalign Clear Braces
Appearance – Invisalign is the closest thing to invisible braces you can get.
Invisibility – Your friends and acquaintances might not even notice you have Invisalign—even when you laugh.
Safety and Comfort – Not only do Invisalign clear braces cause less damage and pain to your gums in the way that metal braces do, they can be removed for brief periods of time if necessary.
No Metal – There's no metal that could cut or scar your gums or the inside of your mouth.
Length of Treatment – It will only take one year on average for you to achieve straight teeth.
Less Pain – Invisalign uses gradual, consistent pressure to straighten teeth, avoiding the sharp pain some patients associate with the tightening of wires on metal braces.
Convenient – Clear braces are good for young adults and older adults who want a system that works but doesn't interrupt their normal activities.
Easy Care – Unlike metal braces, Invisalign doesn't get in the way when you're cleaning your teeth. You just take out your trays when you brush and floss.
No Wires – With Invisalign, there are no wires to tighten! Tightening the wires of metal braces can really hurt. With Invisalign, you might feel a little uncomfortable because your teeth are moving, but it's nothing like metal braces.
Consistent Straightening – Invisalign clear braces gradually, consistently straighten your teeth using a series of clear aligner trays, with new ones about every two weeks. We can swap them out at our office or give you a few sets at a time that you can swap at home.
How Do Invisible Braces Work?
On your first visit to our cosmetic dental practice in Murray, near Sandy, Utah, an impression of your teeth will be made. Using the impressions, a digital three-dimensional model of your teeth will be created at the Invisalign laboratory.  Invisalign will then create a completely custom series of clear plastic trays. The trays are almost totally unnoticeable and cause no irritation. They place gentle and constant pressure on your teeth until they have moved enough to fit the next tray in the series. Each tray is generally worn for about two weeks. Invisalign clear braces work gradually, and inconspicuously until you finish up with your last tray and walk away with that beautiful, and straight smile.
How Does Invisalign Compare to Metal Braces?
We can compare Invisalign clear braces with metal braces in a few different ways, and Invisalign seems to keep winning.
Visibility: Since Invisalign trays are clear, people won't see them when you smile, laugh, or pose for a picture. Traditional metal braces, though, are extremely visible and obtrusive.
Convenience: It's extremely easy to clean your teeth when using the Invisalign braces system, because you just remove the trays before you brush and floss. Metal braces are very difficult to clean around.
Comfort: When you put in a new set of Invisalign trays, they might cause slight discomfort. Tightening the wires of metal braces, though, can cause a lot of pain.
Speed: Many of our patients get faster results from Invisalign than they would have gotten from metal braces.
Is Invisalign Right for Me?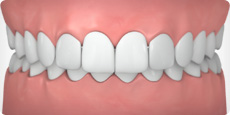 Invisalign is ideal for patients who are worried about any pain, irritation, or embarrassment that metal braces might cause. The system is nearly effortless for some patients. It can also work for you if you need more than a simple straightening. Invisalign can help correct:
Overbite
Crossbite
Underbite
Crowding
Spaces
If you want to straighten teeth effortlessly and without the pain, irritation, and embarrassment of braces, then Invisalign might be right for you. Invisalign isn't just for mild cases either; it can help correct overbite, underbite, crossbite, spaces, and crowding in both adults and teenagers. Having straight teeth means that you don't need to feel like hiding your smile.
FAQ
Here are some key questions to ask yourself when thinking about what braces to get for adults:
How long does the Invisalign clear braces system take to give me straight teeth? The good news is that the Invisalign clear braces system usually takes much less time than metal braces. If you want a faster path to straight teeth, then Invisalign could be for you!
How does the Invisalign clear braces system work? It uses a series of customized, clear aligner trays that each move your teeth a little more. This gradual progression of aligners applies consistent, gentle pressure to your teeth.
How often will I need to visit the dental office? Each set of aligner trays is designed to work for about two weeks. However, we'll give you several sets of trays at each of your visits, so you can swap them out at home to save you time.
Is Invisalign a good braces system for adults? The answer is yes! If you are an adult or an older teen and want to have straight teether, Invisalign clear braces can work well for you.
Do Invisalign clear braces hurt? Every type of braces can cause some discomfort, but Invisalign causes far less than others. New aligners apply noticeable pressure, but they won't cause the sharp, jerking pain of the tightening of the wires in traditional metal braces.
What is the cost of Invisalign? We determine the cost of Invisalign invisible braces on a case-by-case basis. We want to customize your treatment for you specifically. Dr. Blackwood will be happy to discuss the cost of Invisalign with you, taking into account your particular needs and wants.
Do Invisalign invisible braces hurt? This adult orthodontics procedure causes far less pain than other braces systems. Most Invisalign wearers describe just a little discomfort when they put in new aligner trays. A common practice is for patients to put in new trays right before bed, along with some mild pain medication. They report that the discomfort is greatly reduced by morning.
Will Invisalign invisible braces take a long time to straighten teeth? This adult orthodontics system often takes less time than many traditional braces methods.
How do the Invisalign invisible braces look? This is one of the best aspects of the Invisalign system. The aligner trays are clear, which makes them virtually invisible! What can look better than invisible?
Are Invisalign invisible braces hard to keep clean? Your Invisalign aligner trays will be simple to care for. You will take them out when you eat. You will also take them out when you clean your teeth, making brushing and flossing easy. You can simply wash the trays while they're out, which causes no damage to them.
How do Invisalign invisible braces compare to traditional metal braces? This adult orthodontics system has many advantages over traditional metal braces. It causes less discomfort, looks better, and works faster. It's ideal for older teenagers and adults who want straight teeth and a beautiful smile but are concerned about how metal braces look and feel.
Find The Right Invisalign Dentist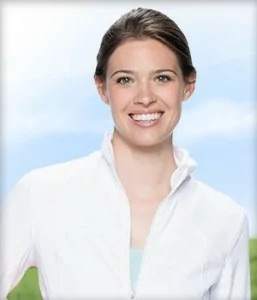 Are you thinking of getting braces to straighten your teeth? You may have done some research already and are deciding on the type of braces you'd like.
You may have even decided you want to use Invisalign braces. At the office of Invisalign dentist Dr. Blackwood, we can highly recommend this braces system to straighten teeth here in the Salt Lake City area. We hope you will make an appointment at our office.
What Are the Qualities of a Great Invisalign Dentist?
Some important qualities to look for in a great Invisalign dentist are:
Proficiency and Training with Invisalign – Your Invisalign dentist should have extensive training in the Invisalign treatment method. Dr. Clint Blackwood takes hundreds of hours of continuing education each year. You will get the most up-to-date treatment possible at our office.
Patient Satisfaction – We have many Invisalign patients in the Salt Lake City area who are completely pleased with their progress and their final results: straight teeth.
Memberships in Professional Associations – Invisalign dentist Dr. Blackwood is an active member in the Utah Dental Association, Academy of General Dentistry, American Academy of Cosmetic Dentistry, American Dental Association, and Dental Organization of Conscious Sedation. He is also a qualified member of the Crown Council.
Comfort – Our Murray, UT office may feel like a spa to you—or like your own home. We offer amenities like soothing music and warm blankets during treatments to straighten teeth. We also offer dental sedation. We as a team at Salt Lake Dental Care want to make you feel right at home, like you are among friends.
Benefits Of Invisalign Braces Compared To Metal Braces
Are you for a braces treatment system to straighten your teeth and give you a beautiful smile? You might be looking at the several options available to you in the Salt Lake City area. Here at Dr. Blackwood's office, we see the value in each option, but we recommend Invisalign.

Invisalign vs Metal Braces
Why do we choose Invisalign above every braces system for teeth straightening? When you compare and contrast Invisalign with metal braces, you can see the clear advantages of using Invisalign:
Invisalign braces are invisible. They use a series of clear aligner trays that your friends won't even notice. You can laugh, smile, and get your photo snapped while Invisalign is straightening your teeth!
Metal braces are not attractive. Not only do they require a metal bracket on each tooth, they make your lips pucker out.
Invisalign braces don't contain any metal wires or brackets, so they can't cut and scar your gums or the inside of your mouth.
It's easy to keep your teeth clean with Invisalign braces, because you can simply take out the aligner trays while you brush and floss.
It's hard to brush and floss around metal braces. Also, unless you brush after every meal, food can get stuck in them.
Invisalign braces usually take less time to straighten teeth than metal braces take.
Invisalign braces tend to hurt less than metal braces. They use a system of aligners that gradually, consistently, and progressively straighten teeth.
Metal braces can be very painful. Many patients dread the appointments when they get their wires tightened, because it's so painful.
Invisalign braces mean less time at the dentist for visits. Why? Because when you come see us at our Murray, UT office, Dr. Blackwood will give you several sets of aligners at a time, which you can swap out at home on a simple schedule.
The last factor we have noticed is hard to measure, but we think of it as "confidence." Many of our patients—especially those who have personally tried both Invisalign and metal braces—are simply more confident in Invisalign. They really believe Invisalign is superior.
Get Invisalign Invisible Braces for Straight Teeth in Murray UT
Dr. Clint Blackwood, DDS, will help evaluate if you're a good candidate for Invisalign or our other adult orthodontics, Six Month Smiles. We'd love to hear from you! If you would like to straighten teeth while keeping your natural-looking smile, please feel free to call our cosmetic and general dentistry office in Murray, UT, and speak with our friendly staff, or submit a message using the contact form on the right if you are in the Salt Lake City area, including Sandy, Utah.
For more in depth information about Invisalign, please visit our Invisalign website!