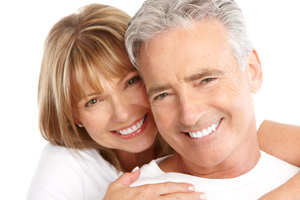 Denture Technology In Murray UT
Dentures differ from the rest of the work that we do instead of restoring and building on your natural teeth, they replace missing or loose teeth entirely. This happens; it's not something to be embarrassed or worried about. Denture technology has come a long way, and even with dentures, you will be able to eat and talk regularly.
Do Dentures Replace All My Teeth?
Not necessarily. We will do a thorough examination of the state of each tooth to determine if it needs to be removed. Once the determination is made, we will construct a set of dentures that will be just right for your mouth.
Implant-Supported Dentures

At Salt Lake Dental Care in Murray, UT, we also offer denture implants. This is often a wonderful alternative to traditional dentures and solves many of the most common problems. Implant-supported dentures are a type of overdenture that is actually attached to dental implants. Having dentures anchored to your mouth means that they will not slip or slide around. This sturdier attachment makes eating much easier, giving you triple the biting power of traditional denture and allowing you to eat more of the foods you could eat with your natural teeth. The sturdy fit also makes it easier to speak and most importantly, the denture implants promote a healthy jaw bone which will dramatically slow bone loss!
Are Dentures Right For Me?
That depends. Due to major advances in cosmetic dental technology, restoration work can often be done on individual teeth instead of using full dentures. However, in many cases, dentures still are the right answer.
Schedule a Dentures Consultation Near Salt Lake City!
Dr. Blackwood can consult with you to help you make the right decision if you are in the Salt Lake City area. In order to set up an appointment to talk with him about dentures, please call us at 801-938-8855, or, fill out the contact form on the right, and we'll call you as soon as possible! We work with patients from all over the area, including Murray and Sandy, Utah!