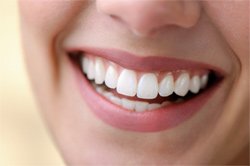 Aesthetic Dentistry For A Beautiful Smile In Murray UT
What is Cosmetic Dentistry?
Cosmetic dentistry is dental work that improves the appearance of your smile. A beautiful smile can give a patient more confidence, and our cosmetic dental work at Salt Lake Dental Care can help! Visit our smile gallery for visual examples of the work we've done for people just like you in the Salt Lake City area!
We understand that your smile can affect the way you feel and the way you act in social situations. At Salt Lake Dental Care, there is a dentist in Murray UT who is committed to helping you get a healthy, glowing smile with the help of aesthetic dentistry. If your teeth are chipped, cracked, crooked, or discolored, come see what we can do for you!
Whether you are located in Murray or Sandy, cosmetic dentist Dr. Blackwood and his caring staff are here to help you find a solution that fits your lifestyle. Dr. Blackwood is experienced in cosmetic dentistry, and our team will ensure you are satisfied with your stunning new smile.
Our knowledgeable staff will do everything we can to make your experience at the cosmetic dentist a stress-free visit. Dr. Blackwood's artistry, attention to detail, and high-quality care can give you a beautiful smile.
Cosmetic Dentistry Services near Salt Lake City and Sandy Utah


At Salt Lake Dental Care, we provide a wide range of aesthetic dentistry services. Check out the links below for brief descriptions about some of the cosmetic dental services our team offers:
Give Us a Call!
You are always welcome to call our Murray, UT office if you have questions about our services or would like to make an appointment. Our cosmetic dentist Dr. Blackwood can help you find out which cosmetic dentistry treatments are the best for your situation. Our patients come from the Salt Lake City area, including Sandy, Utah.